Newcomers
Welcome Newcomers
Welcome to the Town of Clarenville!  Located in eastern Newfoundland, we have a lot to offer new residents.  For more information on living, working and studying in the town of Clarenville please browse our website or view our Welcome Guides below.
Also, visit the Clarenville Area Chamber of Commerce Business Directory for contact and location information for local business and organizations.
If you require additional information, contact the Town Hall at (709)466-7397 or email info@clarenville.ca
Why Locate to Clarenville?
Small town life with large town convenience
Safe and peaceful environment with a low crime index
Clean air and water
Full health and community services
Nature and outdoors
Location convenience
Low cost living
Excellent education system
Recreation and leisure options
Modern infrastructure
Friendly and hospitable people
Employment and business opportunities
Temperate climate
Getting Here
Clarenville is conveniently situated between three major peninsulas (Burin, Avalon and Bonavista) on the province of Newfoundland and Labrador's east coast.  Located directly on the Trans Canada Highway, the town is in close proximity to St. John's, the province's capital city and other large centres.  For more information on travelling to the Town of Clarenville, see the Location page.
Working Here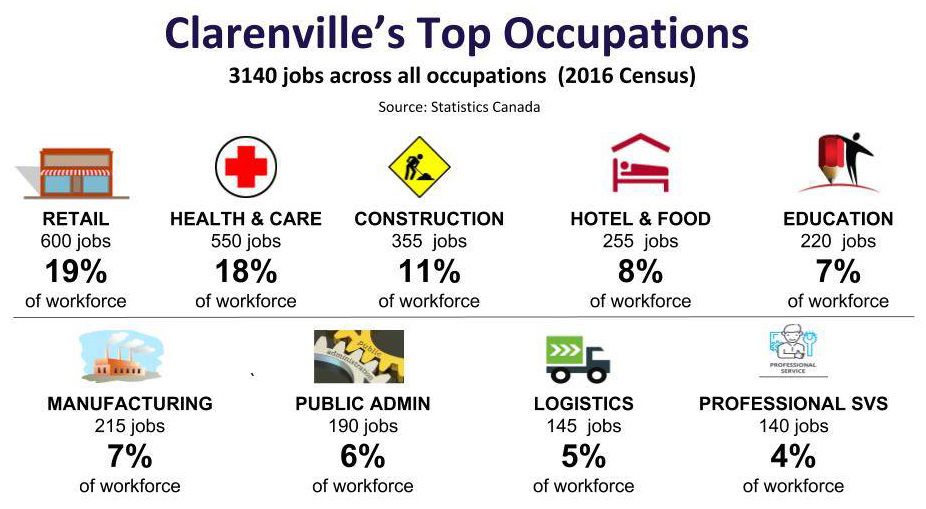 As a service centre for the region, Clarenville is home to many provincial and federal government services resulting in a large number of government jobs especially within realm of education, health and community services. Many Clarenville residents are also employed within the oil and gas industry, working at North Atlantic Refining Ltd. in Come By Chance and off-shore. Clarenville also has a large number of private sector businesses, primarily in service and retail industries.
As a result of its diverse, thriving economy, Clarenville's employment rates are higher than many other parts of the province. The town has a variety of options for employment.
For more information on searching for a job, visit the Living and Working page.
Housing
Clarenville has a thriving housing market with several housing subdivisions recently developed, along with the rejuvenation of older housing areas. There is a wide variety of housing options in Clarenville. There are many options for rentals as well, ranging from traditional apartment-buildings to 1- and 2-bedroom basement apartments, to higher-end fully furnished single dwelling homes. According to the 2016 Census, the average value of dwellings in Clarenville was $259,828.
Health Care
Clarenville has a modern hospital to meet the needs of the region's residents.  A variety of community-based health care services are also available.  The Town is home to a number of private practices servicing family health care needs.
For more information on where to access the necessary services, please visit the Heath Care Page
Recreation and Leisure
Clarenville offers four seasons of recreation, activities and entertainment! For more information on how to get involved or things to do, see the Discover Clarenville Section which includes information on recreational facilities, seasonal activities & entertainment.