Parks & Playgrounds

Community Playgrounds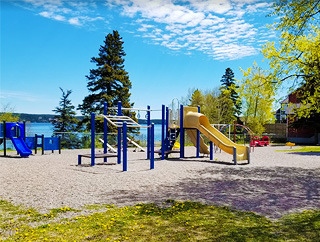 The Town of Clarenville maintains 5 playgrounds suitable for children of all ages. Accessibility and inclusiveness are a priority in the Town's playgrounds. The town's recreation workers regularly inspect parks and playgrounds for hazards, as well as for potential maintenance.
To report equipment problems or other inquiries please contact breardon@clarenville.ca.
Below is a list of playgrounds located within our community.
Cormack Playground
Location: Cormack Drive

Elizabeth Swan Playground
Location: Tilley's Road

Legion Road Playground
Location: Legion Road

Riverview Playground
Location: Riverview Drive

Shoal Harbour Playground
Location: Balbo Drive

Community Parks
The Town of Clarenville is an excellent location to enjoy a variety of outdoor opportunities for you, your family and your friends. Clarenville's many parks provide a place to enjoy a fresh air experience.
Elizabeth Swan Park
The newly renovated, Elizabeth Swan Park is a core community facility featuring a full service Chalet, splash pad, cookhouse and many more features. Please visit the Elizabeth Swan Park Page for more information and pictures.
Age Friendly Park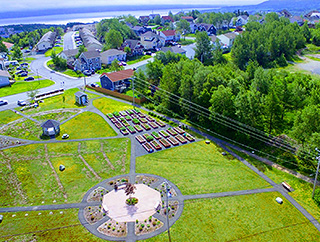 The Age-Friendly Park, located on Gladney Street, was established to create a space where residents and visitors can engage in recreational activities, or just relax in an environment that is designed to appeal to all ages. The park is strategically located in close proximity to seniors' residences as well as the Clarenville Middle and High Schools. It is wheelchair accessible, contains walking trails, park benches, green spaces, a gazebo, tobogganing hill, horseshoe pad, fire pit and a flourishing 33-bed community garden. The Park is also home to many community-based events throughout the summer months which include Outdoor Bingo, Musical Performances, and Wings of an Angel Butterfly Release, just to name a few.
The Town of Clarenville welcomes residents and visitors of all ages to come, relax and enjoy the pristine, peaceful environment the Age-Friendly Park has to offer.
Island Cove
Island Cove is a tiny cove situated on Cormack Drive. This charming site acts as a sanctuary for seagulls, robins, sparrows, Canada geese and greater yellow leg sea birds. Benches and picnic tables are placed in selected areas along the trail to provide an unobstructed view of the ocean, the rock walls, the beaches, and the meadow of natural grasses.
This site has been a project of the Clarenville Heritage Society
Clarenville Dog Park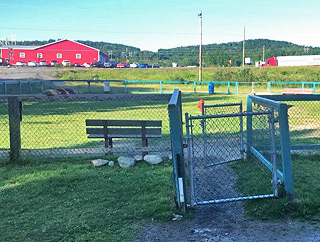 Clarenville's leash-free dog park is a place where dogs can run free. When visiting our leash-free dog park, be aware that there are unleashed dogs at play. You are entering the park at your own risk. Parents should supervise their children at all times. The Clarenville Dog park is located on the Trans Canada Highway, a short drive from the RCMP Detachment.