2022 to 2032 Municipal Plan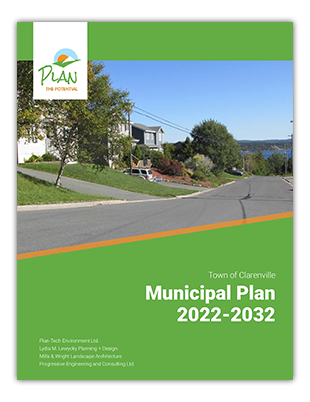 The Clarenville Municipal Plan, 2022-2032 is a legal document that guides physical development and land use in the community. The Urban and Rural Planning Act, 2000 (URPA) gives council the authority to prepare and enact a Municipal Plan. It also requires that the Municipal Plan, the Development Regulations and accompanying zoning maps be updated every 10 years. This process also involves review and approval by the Minister of Environment, Climate Change and Municipalities.
What is the purpose of a Municipal Plan?
It contains planning policies that guide:
What our commercial areas or town centre should look like in the future
How our neighbourhoods evolve over time (e.g. homes, shops, parks, schools…)
Cultural and social qualities of the town
Open space areas that should be protected
The type of Town facilities that are required
How Town land is used
The type of infrastructure services the Town provides (e.g. water, sewer, roads)
The Town of Clarenville engaged Plan-Tech Environment Ltd. (of St. John's) to undertake this plan. Planners from Plan-Tech have visited the community, met with the Public Works and Planning Committee (PWPC) and municipal staff, to review of all relevant background information related to the community and planning leading to the preparation of the Municipal Plan.