Location

Ideal Location
Nestled in the beautiful Shoal Harbour River Valley, the Town of Clarenville is conveniently situated in close proximity to several major centers in the province of Newfoundland & Labrador. Clarenville is also located between three major Peninsulas – Burin, Avalon and Bonavista. About 70% of the province's population sits on Clarenville's doorstep.
How to Get Here
By Land:
The Trans-Canada Highway crosses Newfoundland west to east from Port aux Basques to St. John's. Clarenville is conveniently situated on the Trans Canada Highway and is the centre of a vast network of transportation routes.
| | | |
| --- | --- | --- |
| Town/City | Time Hours | Distance |
| St. John's | 2 | 180 km |
| Gander | 1.5 | 149 km |
| Argentia | 1.5 | 135 km |
| Port Aux Basques | 8 | 643 km |
By Air:
Clarenville is located in close proximity to two international airports, Gander International Airport to the west and St. John's International Airport to the east. Both airports can be reached via the Trans Canada Highway, with driving times of two hours or less.
By Sea:
Year-round vehicle and passenger ferry service is provided by Marine Atlantic between North Sydney, Nova Scotia, and Port aux Basques, Newfoundland and Labrador. Crossing time is 6 hours. From mid-June to mid-September, an additional ferry operates between North Sydney, Nova Scotia and Argentia, Newfoundland and Labrador, approximately 135kms from Clarenville. Crossing time is 12-14 hours.
Climate
If an outdoor lifestyle is what you crave, Clarenville is the place to be. With temperate weather conditions and considerable sunshine relative to the rest of the island portion of the province, Clarenville's climate suits an outdoor lifestyle.
Annual precipitation reaches 125 cm, while snowfall accumulation averages between 185 to 250 cm. Temperatures range from 15 to 20 degrees Celsius during the summer and -7 to -5 degrees Celsius during the winter.
Our topography is gentle but rugged, a combination of wilderness and easy access. We're located at the most westerly end of an in-drift called Random Sound, which is the deepest and most sheltered, ice-free port on Newfoundland's east coast.

Wildlife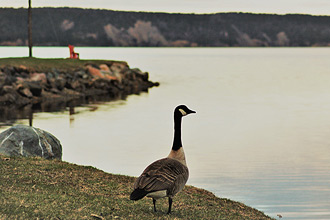 The Town of Clarenville is recognized as a Canada Goose Sanctuary. The Canada Goose arrived in this area in 1922. With encouragement from a local resident, Mr. Clyde Tuck of Shoal Harbour, these geese gradually migrated to an area of the lower Shoal Harbour River basin.
Canada Geese can be seen in great numbers in this area each year during spring and autumn. Located on the Cormack Drive and Shoal Harbour Causeway walking trail is a lookout with interpretative signage about the Canada Goose and other birds.