Annual Budget
Budget 2023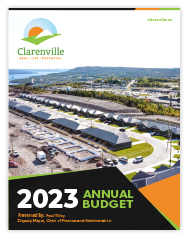 The 2023 Annual Budget for the Town of Clarenville was unveiled during the regular public council meeting on December 20, 2022 by Chair of Finance and Administration, Deputy Mayor Paul Tilley.
Looking forward, this budget is a commitment to continued investment in Clarenville by developing positive partnerships, working with the community, the business sector and government to keep the momentum growing.
Budget Summary
The Town of Clarenville
has seen increased expenses in three areas Inflation, Interest and Investment in Human Resources

will invest more in software and employee training to improve procurement processes.

will seek funding to improve the provision of emergency services.

will work to invest in enhancing school/child safety in and around Riverside School.

will improve water quality by removal of the old/unused Shoal Harbour chlorination building.

will invest in a high-pressure sewer jetting unit

and continue to invest in tourism development initiatives

to maintain debt levels to reduce the town's exposure to higher interest rates.

will reconstruct Shoal Harbour Causeway Bridge in 2023.

will conduct roadwork on Wiseman's Road, Summerville Heights, Balsom Street and Emerald Ave (Phase 1) during 2023.

will continue Shoal Harbour Park / Age-Friendly Park Improvements

will purchase a new multi-purpose tractor and a pick-up for the Recreation Department

will see its overall budget for 2023 matches revenues and expenditures in the amount of $11,407,830 compared to $10,426,399 in 2022, an increase of approximately 9% from the 2022 budget.  The residential tax rate in Clarenville will rise from 7.8 to 8.3 mills. Commercial property tax will increase from 8.5 mills to 9.5 mills.

will increase % of decrease for its threshold brackets for low-income tax reductions for those who qualify.