Annual Budget
Budget 2022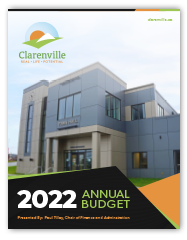 The 2022 Annual Budget for the Town of Clarenville was unveiled during the regular public council meeting on December 21, 2021 by Chair of Finance and Administration, Deputy Mayor Paul Tilley.
Looking towards 2022, the newly elected Council is focused on continuing to ensure that the community will have the necessary infrastructure and human resources to grow our Town to reach its full potential. The 2022 Budget was prepared with that in mind.
Where do your tax dollars go?