Accommodations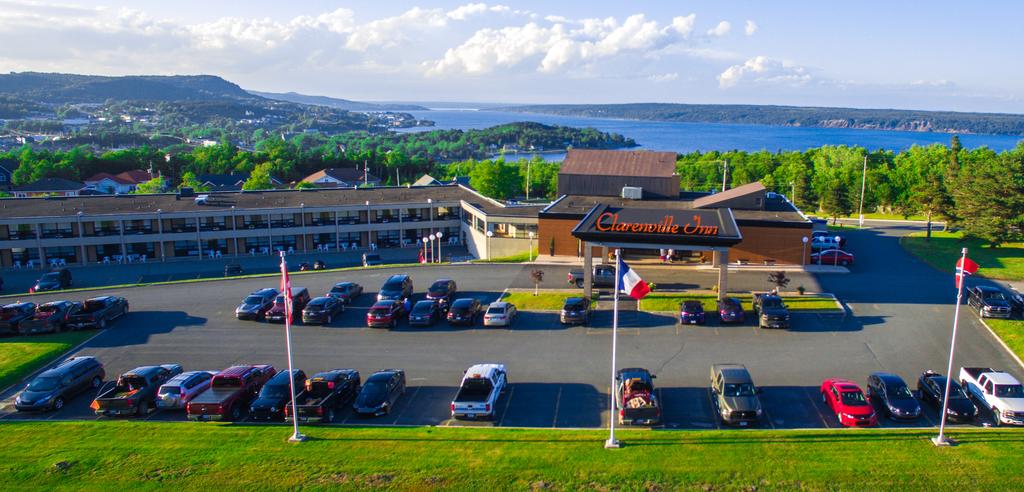 Clarenville Inn
Featuring 63 entirely renovated air-conditioned rooms and 5 banquet facilities. Disability accessible.
134 Trans Canada Hwy, Clarenville, A5A 1Y3
P: 709.466.7911
send email
visit website

Quality Hotel
Featuring 64 air-conditioned guest rooms, fitness room, an on-site restaurant and bar. All guest rooms offer free Wi-Fi and a cable TV.
247 Trans Canada Highway, Clarenville, A5A 1Y4
P: 709.466.1717
send email
visit website
The Wave Hotel
Gym/Physical Fitness Center onsite, Indoor Swimming Pool, air conditioning / climate control, digital cable tv, wifi.
11B Blackmore Avenue, Clarenville, A5A 1B8
P: 709-466-7946
Restland Motel
Featuring 13 standard rooms, 12 Suites (10 with kitchens), 11 rooms with drive up entrances. Onsite Wheelhouse Pub with VLT's, Patio and Food Menu along with Galley Restaurant offering All Day Breakfast, Daily Specials, Salt Cod, Moose, Halibut, Homemade Desserts and Jams, room service. Guest Rooms offer standard amenities, most with air conditioning units.
262 Memorial Drive, Clarenville, A5A 1N9
P: 1-800-205-3993
send email
visit website

Seacrest Suites
Executive style living accommodations offering nightly / weekly / monthly rates.
141 Memorial Drive, Clarenville, A5A 1P9
P: 1-866-466-6803
send email
visit website
The Cromwell House
A fully equipped 3-bedroom vacation home is truly your home away from home. Features a spacious layout.
1 Poplar Road, Clarenville, A5A 3A1
P: 1-866 466 6803
send email
visit website