Annual Great Pumpkin Walk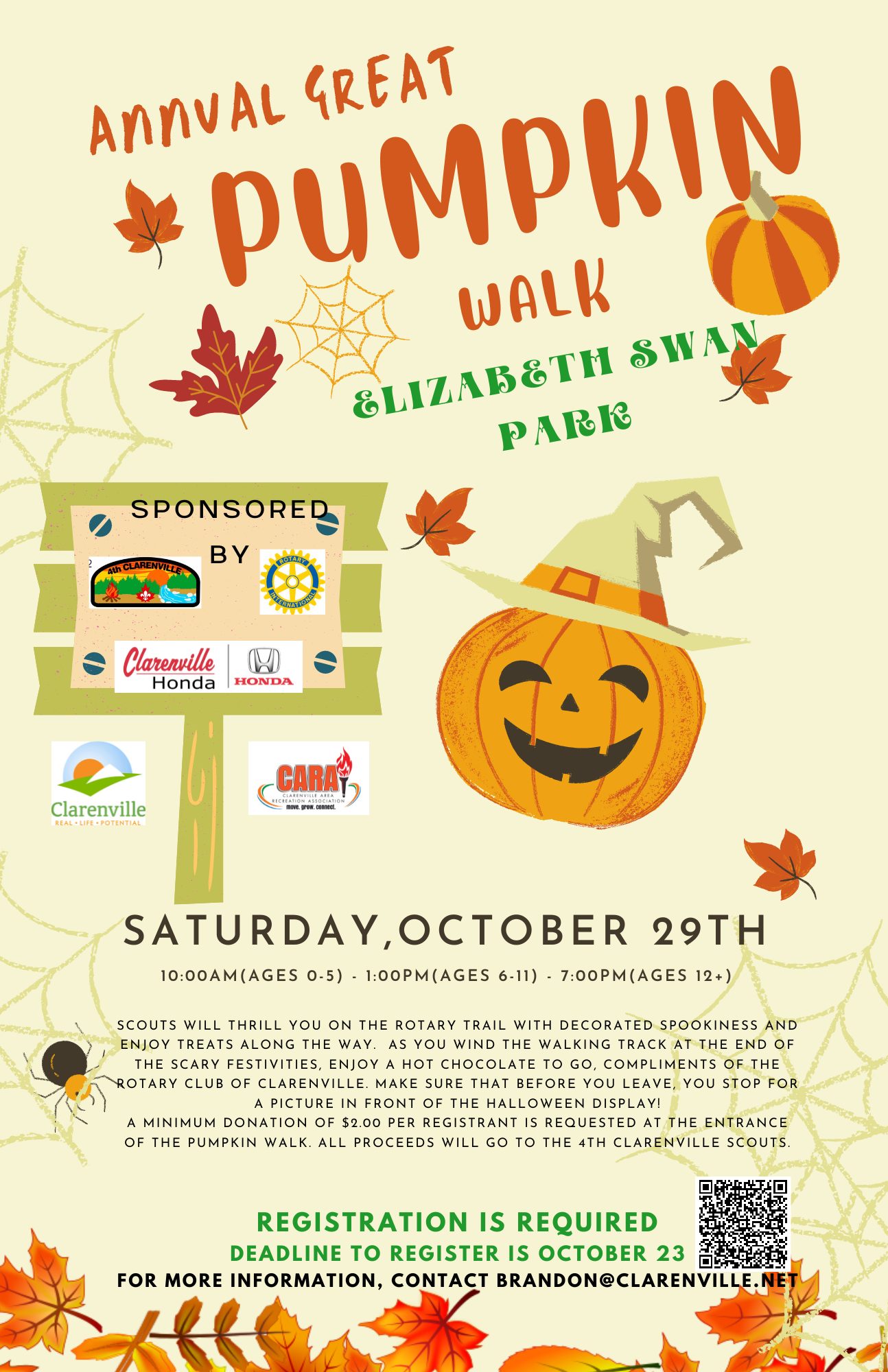 Date/Time
Date(s) - October 29, 2022
All Day
Location
Elizabeth Swan Park
The Town of Clarenville invites you to join us for our Annual Pumpkin Walk at Elizabeth Swan Park/Rotary Trail on Saturday, October 29th, 2022 (If weather does not cooperate the event will be moved to Sunday, October 30th). Walk times are 10:00am (Ages 0-5); 1:00pm (Ages 6-11); 7:00pm (Ages 12+).
The 4th Clarenville Scouts Movement will thrill you on the Rotary Trail with decorated spookiness. Enjoy treats from each of our 10 candy stops along the way! As you wind the walking track at the end of the scary festivities, enjoy a hot chocolate to go, compliments of the Rotary Club of Clarenville and a goodie bag from Clarenville Honda. Make sure that before you leave, you stop for a picture in front of the Halloween Display!
A minimum donation of $2.00 per registrant($5 for the haunted hike at 7pm) is requested at the entrance of the Pumpkin Walk. All proceeds will go to the Clarenville Scouts.
PLEASE NOTE: Upon registering, you will receive an email confirmation, but it will not be automatically generated. Please give us time to confirm all registrations. We anticipate over 400 participants.
Click here to register: https://forms.gle/M2pRrKzmG76GXmd46
VOLUNTEERS NEEDED
Many people are needed to pull off an event of this magnitude, please consider volunteering your time.
For more information or to get involved, please contact Brandon at brandon@clarenville.net or call 466-4105 ext 225.