YELLOW BAG CAMPAIGN DEADLINE EXTENDED!!!
We've seen some great clean-up efforts so far, but there's always room for improvement. Thank-you to all those who have participated thus far. Let's keep the momentum going. The deadline for the Yellow Bag Campaign has been extended one week to allow more residents to get out and take part. The new deadline to enter the contest is June 19th!
---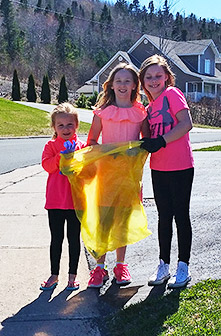 The Town of Clarenville want to inspire the community to come together for a virtual community clean-up. Respecting the COVID-19 restrictions, we invite all residents to join us, to make our town a more beautiful place to live. All participants will enter for a chance to win a $500 donation to go to a charity of your choice. Due to the COVID-19 pandemic, many of our local charities are struggling, what better way to contribute to our town by helping in our cleaning-up AND donating to your favorite charity.
Clean-up will run for one week: June 8th-12th
HOW TO PARTICIPATE:
Pick-up your yellow bags and disposable gloves from the EASTLINK EVENTS CENTRE from Monday-Friday 8:30 am until 4:00 pm. Bags & gloves will be available in the main upstairs lobby.
Gather your household members/bubbles and clean up an area in Clarenville. Leave the bags along the roadway and Town Recreation Staff will collect the bags and properly dispose.
Take some photos while you clean with your Yellow Bags before you dispose of them.
Post your pictures and the numbers of bags you filled in the comment section of this post by Sunday, June 14.
All participants will be entered into a draw for a chance to receive a $500 donation to a local charity of your choice. For each bag filled, you will receive an additional entry to win. The Charity must be a registered non-profit organization.
Remember to stay safe, visible and continue to practice physical distancing while you clean!
Last modified: June 17, 2020